Letter From The CEO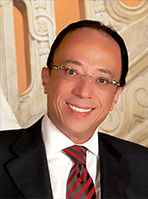 We see the world through the lens of our history. We've always believed that rewarding and engaging our team in the values of the company is essential to our long term survival and extraordinary success.

We love to think of fresh ideas to put you ahead of your competition, ideas that will stand out from the crowd. Our bright professional team always brings enthusiasm, giving that extra spark that our clients are after. We are proud of our outstanding quality and quick response to our clients' needs. It is our aim to make significant contributions to the success of our valuable clients and consistently exceed their expectations.

Our core values made us who we are now. We never compromise when it comes to client satisfaction, honesty and integrity. We're constantly monitoring and exploring our market opportunities. We observe, scan and notice what is unique rather than what is obvious.

We listen, we learn, we create and we deliver!
Ashraf Reda, Ph.D., FA.
Founder